Gardening perspective from Santa Monica, CA.
Awesome Euphorbia Guide
There's a f
antastic new guide to Euphorbias
over at Dave's Garden.
Quote:
Euphorbia canariensis- there are few more elegant columnar Euphorbias than this moderately tall (6'-10') 5-sided columnar, blue-green to bright green plant. This native from the Canaray Islands has many low branches, but the branches themselves rarely branch again, giving the effect of a plant with numerous solitary columns. However, the branches come off but a few suckering trunks in a graceful curve upward, often with the lowest point of the curve touching the ground.
Paghat also has a
nice page
specifically on the 'firestick' euphorbias.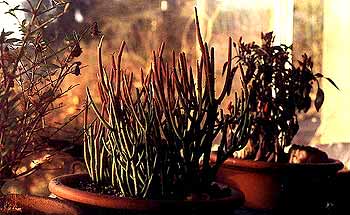 Comments
Recent Blog Entries by smgardener